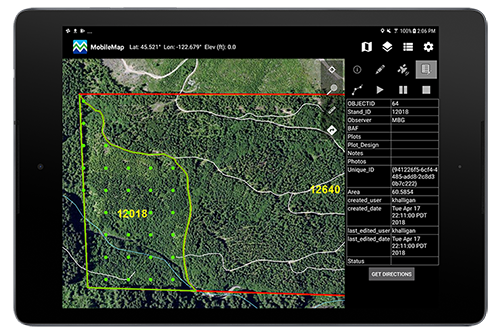 Mobile Field Data Collection:
Offline GIS Capabilities
MobileMap provides real GIS functionality, not just basic maps, to users in the field. This allows field staff to perform complex data visualization, discovery and collection activities. While other mapping applications offer basic offline functionality, none rival MobileMap when it comes to flexibility, capability, and performance.
QUALITY DATA COLLECTION
Customized data collection forms including auto-populated values and a flexible validation processes allow quick data entry while reducing the chance of errors. At the end of the field day, simply press upload, and your data are securely saved to the cloud where to be shared with your team. LEARN MORE
STATE-OF-THE-ART MAPPING
MobileMap provides access to high quality map data and all your relevant business information offline. Simultaneously supporting multiple base maps in a range of formats cover a large area or offer site-specific high resolution detail. LEARN MORE
STREAMLINED COLLABORATION
With synchronized data via web services, managers can view collected data in near real-time to monitor data collectors and their productivity. Field staff hundreds of miles away are kept up-to-date, productive, and on track. LEARN MORE