USDA Forest Service FHAAST, Next generation Digital Mobile Sketch Map (DMSM) system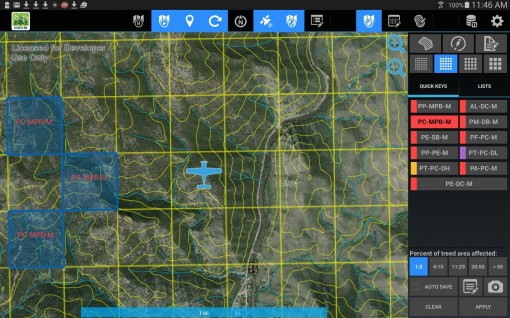 Over the past two years MB&G's Geospatial Service Group has supported the USDA Forest Service on several critical Task Orders focused on developing the next generation Digital Aerial Sketch Map system for the Forest Health Technology and Enterprise Team (FHTET). The Forest Health Protection program maps forest health issues including forest damage caused by insects, disease, and other factors such as bears, frost, and drought in all 50 states and US Territories through the use of aerial surveys from small fixed-wing aircraft.
To support this challenging work, MB&G developed a next generation Digital Mobile Sketch Map (DMSM) system. The DMSM is a mobile mapping solution that increases team efficiency and provides improved access to actionable data while offering cost savings by utilizing Android-based devices.
A key strength of DMSM is its use of ArcGIS for Server as a backend data storage and data synchronization technology. ArcGIS for Server enables a common nationwide insect and disease database, enforces robust data integrity and supports streamlined mobile data workflows. The results include significant improvements to data quality and greatly enhanced collaboration among aerial surveyors and field staff. Additionally, data managers and analysts have immediate access to critical forest health data and can provide up-to-date analysis and reporting at any point in the pest reporting year.
With DMSM in place, FHTET can now leverage their Forest Disturbance Mapping (FDM) using MODUS satellite data at create a composite overview of the entire nation's forest activity. This change detection model refreshes every seven days with new imagery and enables airborne teams to review any anomalies or potential hazards. The DMSM upgrade also eliminates the use of cumbersome and sometimes dangerous airborne cabling systems that required on-the-ground downloads to process and share information.
Specific Project Tasks:
Geospatial Technology Evaluation – MB&G conducted a detailed software requirements analysis and produced a software requirements specification document with recommendations. Compared all available mobile software technologies including mature Commercial Off-the-Shelf (COTS) software, open source tools, and pre-beta code libraries.
Geospatial Programming/Application Development – MB&G developed an application that enabled the full data life-cycle and supported end-user collection of aerial survey data for testing purposes. Prior to launch, we tested a beta version to insure functionality and maturity.
Resource Inventory, Mapping, and Monitoring – MB&G supported development of a more accurate and consistent national picture of forest pest and pathogen activity and streamlined data collection efforts into the production of the Forest Insect and Disease Conditions Maps and Reports.
Geospatial Training and Technical Support – MB&G provided user guides, quick start documents, FAQ's, fully documented code, and train-the-trainer sessions as well as training of aerial surveyors.
Built upon Esri's Platform, using ArcGIS Runtime SDK for Android with named users syncing to ArcGIS Server DMSM is able to push the limits of mobile mapping and web based services. DMSM provides support for display of high resolution base maps, collection of large and complex field data sets, rapid updates to map orientation under high speeds and changing directions, and operates in a disconnected, direct sunlight environment. MB&G's solution utilizes cost-effective consumer-grade tablets which provide a large cost savings compared to the US Forest Service's previous collection devices, which averaged $6,000 each.