Turnkey Mitigation for ODOT US 20: Pioneer Mountain to Eddyvillle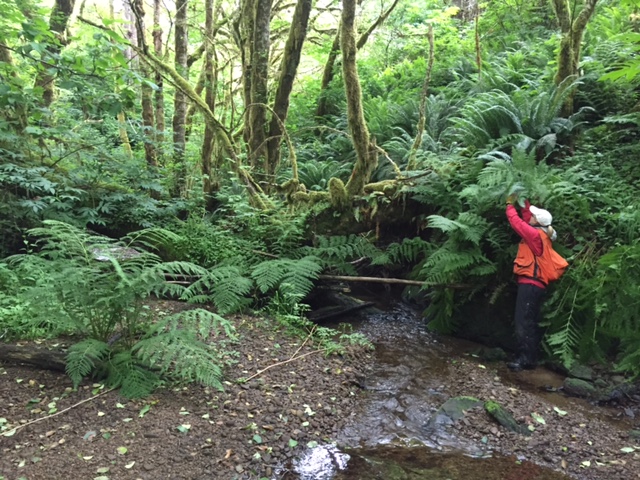 MB&G is currently managing the full delivery of turnkey Mitigation for Oregon Department of Transportation's (ODOT) US 20: Pioneer Mountain to Eddyvillle (PME) project in Lincoln County, Oregon. This is the first ever turnkey, consultant-delivered project for ODOT and involves multi-disciplinary site studies, land transactions with private, county, and federal landowners, establishing legal protection of the mitigation sites in perpetuity, design, permitting, construction, and long-term stewardship of two mitigation sites in the Big Elk Creek subbasin, all with minimal ODOT oversight.
The compensatory mitigation addresses impacts to jurisdictional wetlands and waters, fish passage, and federally-listed coho salmon associated with the PME Project. The mitigation scope includes removal of a priority fish passage barrier (culvert) on Bull Creek, restoration of a 400-foot reach of Bull Creek, establishment of permanent riparian buffers on private timberland through deed restrictions, ownership transition of a 52-acre industrial timber parcel from a private timber company to the US Forest Service for Late Successional Reserve (LSR) management, forest thinning on the 52-acre parcel to set the land on a LSR trajectory, road decommissioning, and design and construction of approximately 1.5 acre of wetlands and of channel stream habitat adjacent to Big Elk Creek.
The multi-disciplinary MB&G team includes biologists, engineers, construction contractors, archaeologists, land appraisers, attorneys, landscape architects, and non-profit land trust. The project has been under development since 2015 with construction occurring in summer and fall of 2017. Permit-driven post-construction monitoring and maintenance will last through 2023, with long-term site stewardship occurring after this milestone.
This project is the recipient of two awards: 2017 Engineering Excellence Award from ACEC Oregon, and 2017 Business Achievement Award for Natural Resources Management