Michigan DNR Timber Cruise Inventory System Development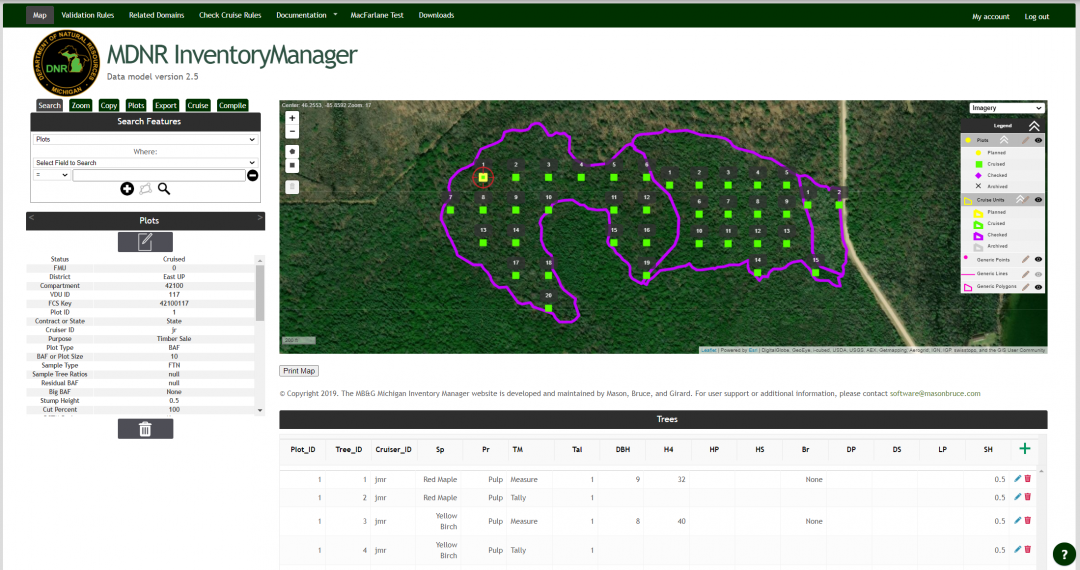 MB&G was selected by the Michigan Department of Natural Resources (MDNR) to implement our Inventory Management Software System that includes a field data collection component along with a web based office component that allows individual cruisers to generate data, reports, and files that can be imported into MDNR's Vegetative Management System (VMS) and the Michigan Forest Inventory System (MiFI).
MDNR is committed to the conservation, protection, management, use and enjoyment of the State's natural resources for current and future generations.  In carrying out this mission, there is a need to gather information on trees for the purpose of inventorying the condition of the forest, and to determine cubic volume of potential forest products to conduct forest planning and facilitate the sale of timber on State managed lands. Over the last several years, Timber Sales have generated over $45 million dollars of revenue for the Forest Development Fund, the fund that powers almost 90% of the Forest Resource Division of MDNR's budget. The timber cruise inventory system developed by MB&G enables Michigan to maintain their mission by retiring their antiquated, DOS-based, timber sale system, implementing robust data models and supporting check cruising to improve data quality, and supporting new sampling protocols and a newly developed taper model, the MacFarlane model, for improved volume calculations.
MDNR is reliant on flexible workflows for its staff and contractors, specifically the ability to design and carry-out a cruise while 'offline', and later associate it with cruise polygons for the purpose of inventory reporting and timber sale volume determination. MB&G's COTS MobileMap Cruise application collects inventory data while our InventoryManager software implementation provides a cloud-based web application to manage incoming cruise data, cruise compilation, and timber volume reporting for timber sale prospectuses. We extended our COTS Inventory Management System to enable MDNR to implement variable radius plot sub-sampling (VRSS) protocols.  This enabled utilization of newly developed taper models to determine volumes of measured trees and allowed for sub-sampling of diameters and heights. This protocol is flexible with several variations, allowing MDNR to match the intensity of the measurements to the value of the volume being calculated. In addition, the system was extended to support compiling volumes and generating reports for sub-sampling methods, such as First Tree North and Sample Tree Ratio.