I-5 Willamette River Bridge Bundle 220 Project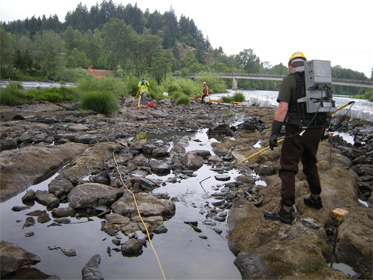 MB&G served as the Environmental Manager for the design and construction phases for the replacement of the Interstate 5 crossing of the Willamette River in the Eugene/Springfield area. During the design phase, MB&G worked directly with ODOT, construction contractors, the design team, and regulatory agencies to obtain all the necessary environmental permits and authorizations under an extremely accelerated delivery process. This was the largest project delivered by ODOT under the OTIA III Bridge Program, and the first ODOT project delivered under the Construction Manager General Contractor (CMGC) process.
The environmental due diligence and compliance effort required daily interaction between MB&G, the design team, contractors and regulatory agencies to ensure that the project was designed and constructed according to permit terms and conditions. Despite the scope of this large, complex project, design and permitting efforts were completed within one year. Principal responsibilities included environmental reviews of the 28-acre project area, preparation of permit applications and addendums, daily liaison with regulatory agencies, review of project plans for permit compliance, and general environmental compliance oversight. MB&G led all permit addendum and modification needs, hyrdroacoustic monitoring, and fish salvage activities during construction, and is monitoring and maintaining the establishment of on-site restoration and mitigation measures for five year after construction is complete.
Client:
OBEC Consulting Engineers
Owner:
Oregon Department of Transportation