Data Management
Our team takes the uncertainty out of data management by creating solutions that will unlock the power of your data.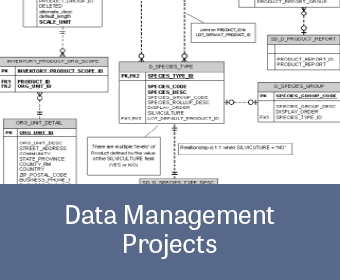 MB&G has been helping clients manage land-based assets and associated data for more than 90 years. MB&G staff currently manage timber inventory and land management databases for  various  natural resource clients throughout the U.S. These asset databases combine field measurements, business information, and GIS data to support a wide array of uses including collection and maintenance of field data, analysis of current and future conditions, planning and simulations, mapping, and annual or periodic reporting.
MB&G offers a range of data management services to support our client's data management needs throughout the entire data life cycle. Please contact us for more information regarding any of these high-level tasks.