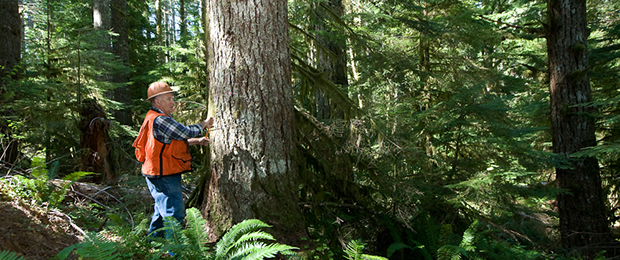 Timber Cruise Design and Facilitation
A principal area of expertise within MB&G is timber inventory design and cruising. MB&G oversees design and data collection on 25,000+ cruise plots each year in Washington, Oregon, Idaho, and California. We have the statistical and sampling expertise to analyze forest inventory data and design a cost efficient and robust forest inventory. We periodically work in Texas and Arkansas, and have completed 40,000 cruise plots in those states in the last four years. Our staff can design an annual inventory program or a 10-year inventory program; and we oversee all aspects of a timber cruise including data collection, check cruising, quality control, compiling, and reporting. We have a proven set of cruise specs and data collection application.
We partner with leading field collection firms across the United States to be able to staff up at a moment's notice. We rely upon local experts to collect forest inventory data. Finally, our seasoned forestry staff manages operations in the field and conducts check cruising to ensure consistent and quality data.
Custom Mobile and Desktop Applications Built In-House
MobileMap™ Cruise
MobileMap™ Cruise makes forest and timber data collection easy. With GIS functionality, efficient data collection, data validation, streamlined workflows, and improved information management, you can now collect quality inventory data utilizing low-cost consumer mobile devices.
InventoryManager™
InventoryManager™ provides one portal to plan cruise projects, manage field collection teams, and verify inventory progress. Using cloud technology, InventoryManager keeps teams in constant communication and on track.