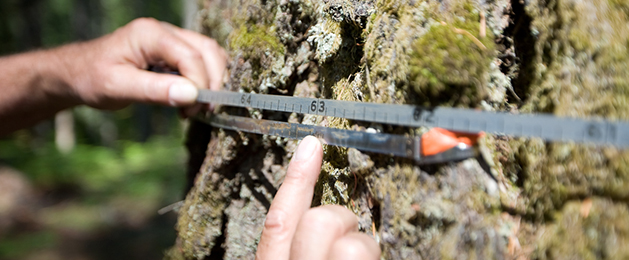 Biometrics & Modeling
Timber inventory, forest mensuration and harvest planning have been areas of expertise at MB&G since our inception. Foresters still rely on the log volume tables created by two of our founders, Jim Girard and Donald Bruce.
MB&G has always been known for expertise in forest biometrics and applied statistics, as well as modeling, optimization, and simulation. Our biometricians are well-versed in various programming languages and use statistical packages such as R, Systat, and SAS. We perform extensive data analyses and data management that improve decision-making while minimizing costs.
Working with our clients' goals in mind, we develop management alternatives that best meet their needs. Models often explore different combinations of management treatments ranging from use of genetically improved seedlings, brush control, PCT, commercial thinning, and a variety of final harvest methods. Our team has developed a wide variety of silvicultural management regimes that we incorporate into our timber harvest scheduling models.
 About MBG Tools
One of the tools available exclusively to our biometricians and forest analysis is MBG Tools, a stand-based forest inventory data management system used on approximately three million acres across the United States.
The software provides pop-down menus to facilitate cruise data compilation, merchandizing, depletions, stand growth, expansions, and reporting. MBG Tools provides a choice of taper systems and easily coordinates with stand data held in a Microsoft Access database. Learn more about MBG Tools and its flexibility in choosing different growth models and customized volume and/or taper equations.