James Schriever
James brings 25 years of experience in geospatial, forestry, project management, and operations to support the expansion of MB&G's geospatial capabilities.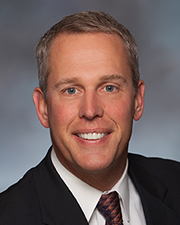 James was hired in 2010 as MB&G's Director of Geospatial Services Group and Corporate Business Development and became a Principal in 2015. He has more than 25 years of experience and currently leads MB&G's Geospatial Services Group. In this capacity he also serves as principal-in-charge and program manager for all large division programs.  James has significant experience leading large teams to successfully execute on very complex geospatial mapping, analysis, and software development projects.  Programs he has managed include the USGS Geospatial Products and Services (GPSC), NOAA Coastal Services Center Geospatial Support, and National Imagery and Mapping Agency (aka National Geospatial Intelligence Agency) BOA and IDIQ contracts as well as USDA NRCS Remote Sensing Lab, USDA Forest Service Forest Health Technology Enterprise Team, and USDA Forest Service Region 5 on-site support contracts totaling over 160 staff.  James has also managed and executed on numerous other contracts with federal, state, and regional agencies as well as nonprofit and private corporations throughout the world.
Prior to joining MB&G, James served as Senior Vice President for Sanborn Map Company;  Executive Director of Solutions at Space Imaging and as Chief Operating Officer of Pacific Meridian Resources, a company purchased by Space Imaging in 2000.  James also worked for more than ten years in the wood products and forestry profession. Positions held during that timeframe included Woodlands Manager for the University of New Hampshire; Forest Operations Assistant for New York State, Forest Technician for the USDA Forest Service, procurement forester for a private lumber company, consulting forester, and as a logger in the St. Joe and Colville National Forests. He received a Bachelor of Science Degree in Forestry from the State University of New York, College of Environmental Science and Forestry, Syracuse and a Master of Science Degree in Resource Administration and Management at University of New Hampshire, Durham where he concentrated in GIS and Remote Sensing.