Kerry Halligan, Ph.D.
Senior Geospatial Specialist and Application Developer / Associate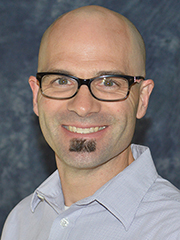 Kerry is a geographer and software developer with a passion for helping clients solve geospatial and data management challenges. For the last decade, he has focused his efforts on developing innovative GIS, remote sensing, and data management software.  Kerry has experience designing, developing and deploying enterprise GIS solutions including desktop, mobile and web mapping applications.
He is the lead architect of MB&G's MobileMap and Spatial CMS technologies and constantly tracks the latest developments in the fields of GIS, web development and mobile technology. He also has experience in remote sensing and uses data from a wide range of systems including multispectral, hyperspectral, LiDAR and SAR sensors.  Kerry has a background in forest ecology and has conducted field work in Washington, Oregon, Montana, Wyoming, and Cost Rica. He earned his Ph.D. from University of California Santa Barbara's prestigious Geography Department, where he studied new methodologies for mapping forest health and wildfire risk in Yellowstone National Park.