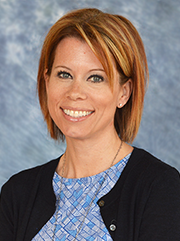 MB&G has hired Erin VanDehey to lead their growing Environmental Services Group. Erin has over ten years of experience in operations management and more than 20 years of experience in environmental consulting. Her aptitude for generating efficiencies, strengthening partnerships, and providing innovative project solutions will advance the growth of MB&G's Environmental Services Group. In addition to business development and group leadership, Erin will focus on creating a positive work environment, promoting staff retention, recruiting top talent, and providing exceptional client service.
MB&G President Roger Lord, ACF, is pleased to have her join the company, "We are thrilled to have Erin join our staff and leadership team. MB&G met with many candidates to fill this unique position and Erin truly stood apart from other applicants. Her organizational vision and skill set are a great complement to the overall strategic goals of our firm."
VanDehey has a Bachelor of Science in Biology from Eastern Oregon University. She has managed a variety of projects focusing on National Environmental Policy Act (NEPA), Endangered Species Act (ESA), and other state, federal, and local environmental regulations. She is an experienced fisheries biologist and most recently served as the Director of Operations and Regulatory Compliance lead for Sealaska.
"There has never been more of a need for leadership and expertise in the regulatory compliance sector," states VanDehey. "I'm very excited to serve as MB&G's Environmental Services Director and help our clients navigate these processes as part of a firm with nearly 100 years of natural resources and regulatory compliance experience."
MB&G's scientists assist clients through all phases of project development, from project scoping to post-construction mitigation site monitoring. We specialize in wetland science, fisheries, wildlife biology, urban forestry, aquatic habitat, hydrology, botany, regulatory compliance, and environmental construction monitoring. Our team has extensive experience with regulatory compliance needs triggered by federal, state, and local environmental regulations.