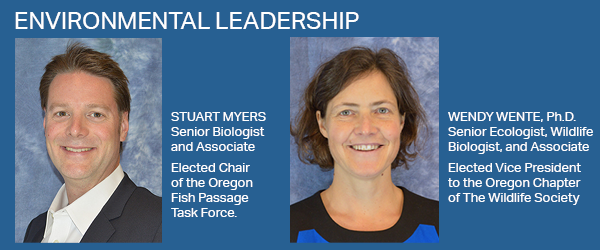 Two MB&G Associates have been elected to leadership roles with local environmental organizations.
MB&G Senior Biologist and Associate Stuart Myers has been elected Chair of the Oregon Fish Passage Task Force. The Task Force advises the Oregon Department of Fish and Wildlife and the Fish and Wildlife Commission on matters related to fish passage including rulemaking to implement statutes, funding and special conditions for passage projects, and fish passage exemptions and waivers. Task Force members are chosen by the ODFW Director. Stuart represents the Fishing and Conservation constituency on the Task Force since 2011.
MB&G Senior Ecologist, Wildlife Biologist, and Associate Dr. Wendy Wente  has been elected Vice President to the Oregon Chapter of The Wildlife Society, a non-profit professional organization that represents over 500 wildlife professionals in the state. The chapter's goal is to provide information on wildlife issues, aid public discussion of natural resource management in Oregon, and promote the application of sound science in resource management decisions.