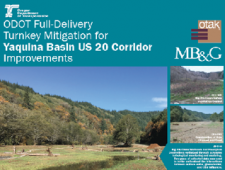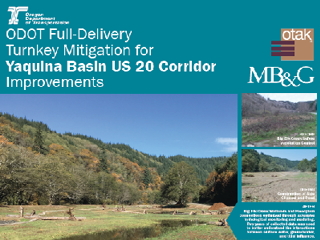 MB&G and Otak, Inc., received an Honor Award for the Oregon Department of Transportation (ODOT) Full-Delivery Turnkey Mitigation for Yaquina Basin US 20 Corridor Improvements project. The award was presented by the American Council for Engineering Companies (ACEC) of Oregon at their annual Engineering Excellence awards banquet on January 17, 2018.
The landmark project involved a new contracting and delivery approach for ODOT as the agency's  first fully consultant delivered turnkey contract. The "cradle-to-grave" delivery approach allows ODOT to minimize their project resources and oversight, while MB&G leads  landowner coordination, real estate appraisals and transactions, regulatory compliance, design, construction, and long-term stewardship for two mitigation sites in the Yaquina River basin in Oregon.
MB&G Senior Biologist/Associate Stuart Myers; Wildlife Biologist/Associate Wendy Wente, PhD.; and Biologist Kristen Currens, PWS, were on-hand to receive the award.
Our team also support other nominated projects including the Peter Courtney Minto Island Bridge for the City of Salem and the Willamalane Parks Mill Race Path Bridges. A full list of awards is available here.
About the project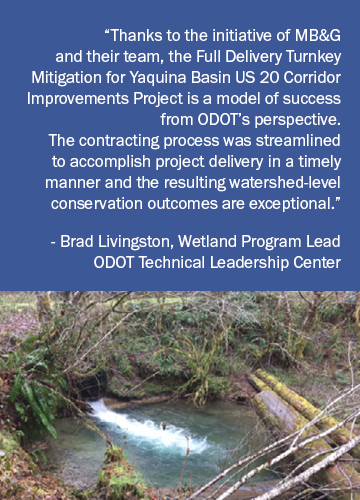 Key project components include removal of a priority fish passage barrier, stream restoration, land acquisition, establishment of permanent riparian buffers through deed restrictions, design, construction, and long-term stewardship of approximately 70 acres.  At the Big Elk Creek site, the MB&G-led team installed three streambank breaches to connect the creek with its floodplain to create 1.5 acres of wetland. At the Bull Creek site, 4 miles of high-quality salmonid habitat were made accessible by removing an undersized  culvert. A pool-riffle channel morphology was constructed in the culvert footprint that facilitated fish passage and reestablished sediment transport continuity. Our team facilitated a 52-acre land donation from a private landowner to the Siuslaw National Forest for late-successional reserve management to improve terrestrial, riparian, and aquatic habitat in the vicinity of the culvert removal and stream restoration work. MB&G will monitor the sites through 2023 to ensure compliance with permit conditions after site construction; after which, team member The Wetland Conservancy  will manage the sites in perpetuity.
The team led the planning, design, and construction of this complex project while managing input from multiple stakeholders. The project was delivered on budget and met all schedule milestones for the critical fall 2016 opening of the new 5.5-mile segment of US20.