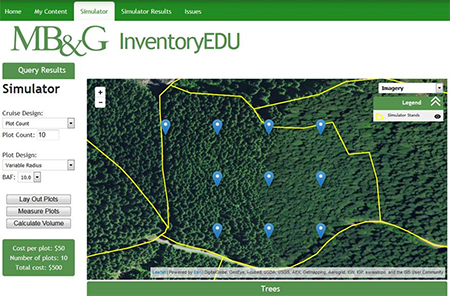 InventoryEDU is an implementation of MB&G's InventoryManager application for managing timber inventory projects. InventoryManager is a web based tool that helps users view, manage, and report on cruise data. It enables your entire inventory team to monitor and track data collection progress, assign cruises and check cruises to individual cruisers, and perform quality checks on cruise data. Data can easily be imported from or exported to other inventory data collection and analysis systems. Built on Esri's enterprise GIS technology, InventoryManager is reliable and secure and integrates easily into your forestry and GIS workflows.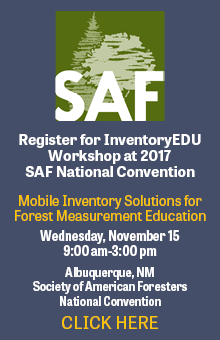 InventoryEDU provides the same functionality as InventoryManager, while also enabling university users to share forestry data sets and methodology between forestry programs. This provides students with the ability to learn about different forestry systems and inventory methods across multiple regions of the country. InventoryManager is commonly used in conjunction with MB&G's MobileMap Cruise software which supports robust timber cruise and check cruise workflows on modern mobile devices such as tablets and phones. InventoryEDU also includes an inventory design simulator that allows students to simulate the effect of different sample designs on sampling cost, accuracy, and uncertainty.
To find out how your forestry program can take advantage of InventoryEDU, or for more information on MB&G's technology including MobileMap and InventoryManager, please contact us.