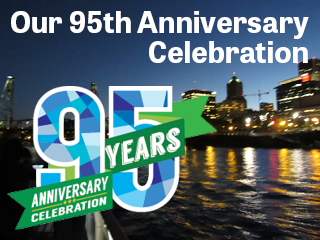 MB&G took to the water to celebrate their 95th year in business. MB&G employees and their partners commemorated the monumental business anniversary with a beautiful fall evening dinner cruise on the Willamette River.
Founded in 1921 by David Mason, an early and vocal advocate for sustained yield forestry, the firm has seen many changes through the years. Started as a forest management firm, MB&G has grown to full-service natural resource firm with three core lines of business: forestry, environmental, and geospatial services. The firm is headquartered in Portland, Oregon, and has offices in California, Idaho, and Colorado.
MB&G took on its present name in 1948 after James Girard joined the group. A few years earlier in 1936, Donald Bruce joined the firm after working with Jim Girard on the log volume tables that are still used by foresters.
MB&G now has 60 employees and continues to develop science-driven service and technology solutions. In the last 20 years, MB&G has evolved beyond the core focus of forestry projects and added an Environmental Services Group, a Geospatial Services Group, and the Appraisal Service Group, which strengthens the firm's ability to assist clients achieve cost-effective solutions to natural resource challenges. The firm has also recently focused on technology and software applications development and works with data collection, maintenance, analysis, and visualization projects including their successful MB&G MobileMap application, which can be customized for timber cruising, vegetation, roads, utilities, and asset field data collection.
"We are so pleased to celebrate our 95th anniversary. Our longevity and relevancy is due to our great team and successful partnerships," states President Roger Lord, ACF. "As a firm we strive to offer exceptional client service that honors our rich heritage. While we still offer many of the services that put us on the map 95 years ago, our firm has grown to include new specialties and products that support the expanding needs of our clients."
MB&G credits their continual success to providing excellent client service. This commitment is reflected in the firm's long-standing relationships with clients, teaming partners, and the ability to attract and retain top talent. MB&G places a strong importance on employees' fulfillment and welfare, and was recently recognized, for the third year in a row, as a 'Top Workplace' by the Oregonian Media Group.