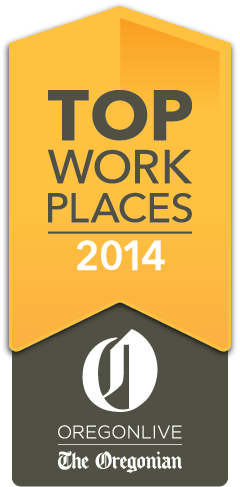 MB&G is pleased to announce that that it has been selected as one of 'The Oregonian Top Workplaces.' The Oregonian Newspaper publishes 'The Oregonian Top Workplaces,' a list of the best places to work in the Oregon and Southwest Washington region once a year.
The evaluation for the Top Workplaces program is based solely upon feedback from employee surveys. The employee survey is conducted by WorkplaceDynamics, LLP, a leading research firm on organizational health and employee engagement. WorkplaceDynamics conducts regional Top Workplaces programs with 40 major publishing partners across the United States.  Over the past year, more than 5,000 organizations and 1 in every 88 employees in the U.S. have utilized this survey type to better understand employees' thoughts and opinions.
MB&G was pleased that 85% of employees contributed to the survey that put the firm in one of the top spots. Company culture, advancement opportunities, flexible work schedules, training and education, and other factors were noted positively by MB&G staff.
Human Resources Manager Karen McFarland, who organized the firm's participation, shares her excitement about the award, "Although I am relatively new to MB&G, it is obvious that our hardworking crew simply enjoys their work. This award also strengthens MB&G's view that our employees are our most valuable resource."
"I have always known that we have a special organization and am very happy to see our team recognized. This award is all about our company culture and the great people who work here, and their adherence to our core values of Client Service, Integrity, Quality, and Expertise," states MB&G President Stephen Fairweather, Ph.D.
The Oregonian published the complete list of Top Workplaces on September 14th. For more information about the Top Workplaces lists and WorkplaceDynamics, please visit www.topworkplaces.com. To view The Oregonian's full special edition, please visit their site.